The manufacturing sector is in the midst of transforming into Industry 4.0. Information technology saturates every corner of our production, administration, and safety operations. But not all technology is created equal.

What is worth investing in, and what is best left by the wayside? One of the most flexible and reliable services you can use is RFID wireless tracking. It is adaptable to a wide range of use cases and works in practically any manufacturing facility.
Is RFID the right solution for your plant or warehouse? This article explains what RFID is, how RFID tracking can help your business, and how RFID technology in manufacturing is effectively used today.
What is Radio Frequency Identification (RFID)?
RFID stands for radio frequency identification, a short-range wireless communication standard commonly used for tracking purposes in manufacturing facilities and warehouses. RFID tags securely transmit their identity and other important data when placed close to scanners—for example, in the consumer world, with tap-to-pay credit cards.
RFID technology in manufacturing is a good choice for asset tracking because it doesn't conflict with other common business wireless standards. For example, WiFi internet and two-way radios work perfectly fine alongside RFID.
It offers other important benefits too. For example, RFID technology in manufacturing doesn't require line-of-sight. Signals can pass through wood, plastic, and other common building materials. Scanners can read separate tags inside a scanned toolkit, hard case, or other containers. However, it is important to know that metal reflects RFID signals, so it might not be the best choice in some facilities with many walled metal surfaces.
How Do Warehouse and Manufacturing RFID Key and Asset Tracking Systems Work?
RFID tracking systems are powerful, flexible technologies that manufacturers and shipping and distribution centers can easily customize to the ways they work. They fit neatly into lean manufacturing technology practices by automating and enforcing tight process control over what are otherwise tedious manual tasks.
While installations will differ between facilities with different use cases, RFID tracking systems are always built from a few essential core components: storage cabinets, RFID tags, readers and access terminals, and management software.
Storage Cabinets
RFID tracking systems may be advanced, smart technology, but they must still be built on top of secure, reliable storage cabinets. These hold keys, handheld scanners, toolkits, and other important equipment when those assets aren't used. In addition, cabinets often include charging ports to ready electronic devices and data cables for fault monitoring.
Advanced tracking system cabinets are modular, meaning you can stack and configure them for different floor plans and use cases. For example, a manufacturing facility may want to track maintenance toolkits and expensive mechanical calibration tools of all different shapes and sizes. Whereas a warehouse may want to charge and ready rows upon rows of identical handheld scanners.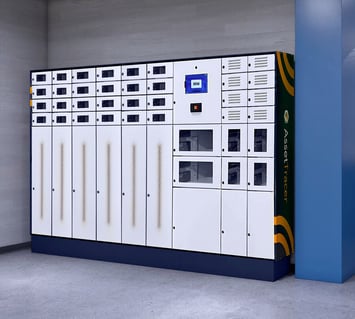 ---
Manage handheld scanners, electronic devices, facility and fleet keys, and other equipment in real-time with RFID tracking.
How Can RFID Tracking Systems Help Manufacturing and Warehouse Operations?
RFID tracking systems improve operations in many important ways.
Standardize essential workflows for better Lean Management
Smart key and asset tracking systems do more than just monitor the physical materials they store. They offer important insights into the workflows within which those items are used. Better tracking will help you automate and standardize important processes so that work is carried out consistently, reliably, and with good feedback when errors occur. For example, you'll know immediately if any production floor staff start their shifts without essential equipment and toolkits.
---
Generate new process efficiencies
Your efficiency rates will increase when you know precisely where vital keys, equipment, and mobile devices are at any time, who signed them out, and when they're due for return. You won't waste time hunting for missing equipment. You'll maintain peak asset utilization.
---

RFID warehouse equipment tracking systems for manufacturing facilities and warehouses can save your staff hours of labor every week by automating tedious, manual equipment and key management. The RFID tracking system will automatically compile everything. Those hours will quickly add up and offset the upfront costs of an RFID tracking system. That is before any operating efficiencies you'll gain. For example, managers won't spend as much time overseeing asset transactions and monitoring reports.
---
Improve employee accountability
Every transaction your production, maintenance, or service staff make is tracked. The tracking systems enforce better accountability among staff signing keys and equipment in or out. They also record the condition of everything signed out. Is it fully charged? Did the user report any fault codes or other issues with the device?
Automating equipment and key management also reduces the opportunities for staff to lose critical assets. For example, suppose a staff member is ever late returning important equipment. In that case, the system can send an immediate alert to supervisors so they can track it down and get it returned to circulation.
Use Cases for RFID Tracking Systems at Manufacturing Facilities & Warehouses
Facility and fleet key tracking

RFID tracking systems never tire at the end of a shift, call out sick, or make human errors because they're rushing. Instead, everything is tracked and accounted for every time a staff member uses it.
They're a great tool for managing facility and vehicle key transactions, so you always have an airtight record of who took the keys and when they're due for return. Important, regulated processes won't ever be delayed because staff members are trying to hunt down who has a key for a lift or to your manufacturing cold room.
See how strong RFID keyfobs can be (Video)
---

Modern manufacturing and shipping centers rely on staff using handheld scanners to track everything moving in and out of the facility. Pallets, individual boxes, individual picked items. They're complex places, and leaving staff without functional scanners isn't an option. Scanners must be charged and available for every staff member at the start of every shift.
Learn More: See Best Practices for Managing Warehouse Scanners
---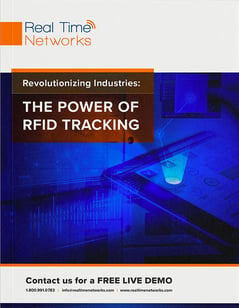 Discover the Power of RFID
See how RFID tracking systems work, how they're used in industry today, and some best practices for adapting them to your organization's workflows.
---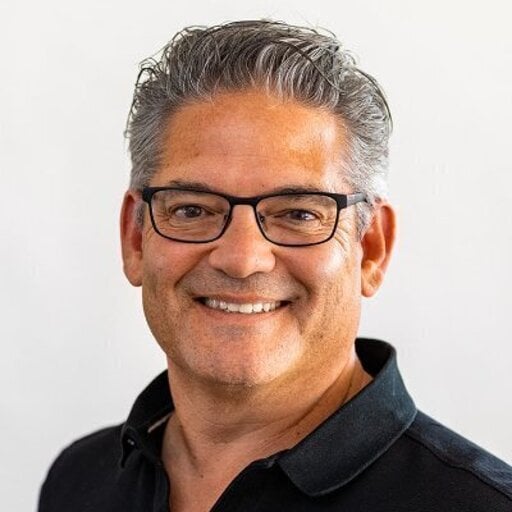 Jay Palter
Vice President of Marketing