That is because physical keys are reliable, cost-effective access control tools. Electronic access controls certainly have their place, but their price point puts them out of reach of many organizations. And if you need to manage vehicles, storage lockers, or other similar assets, you don't have a say in what type of access control they use.
If you're stuck managing row upon row of keys, you need to find a better key management solution. Automated key management solutions using radio frequency identification (RFID) key tag tracking are solutions many businesses might not know.
This article explores how automated key management systems work and why RFID tracking can save you money and improve operations.
What is a Key Management Solution?
Key management is the set of business practices necessary to secure and organize physical keys. A key management solution is a set of hardware and software that can automate these tasks. Modern key management solutions typically include key storage cabinets, access terminals, and management software.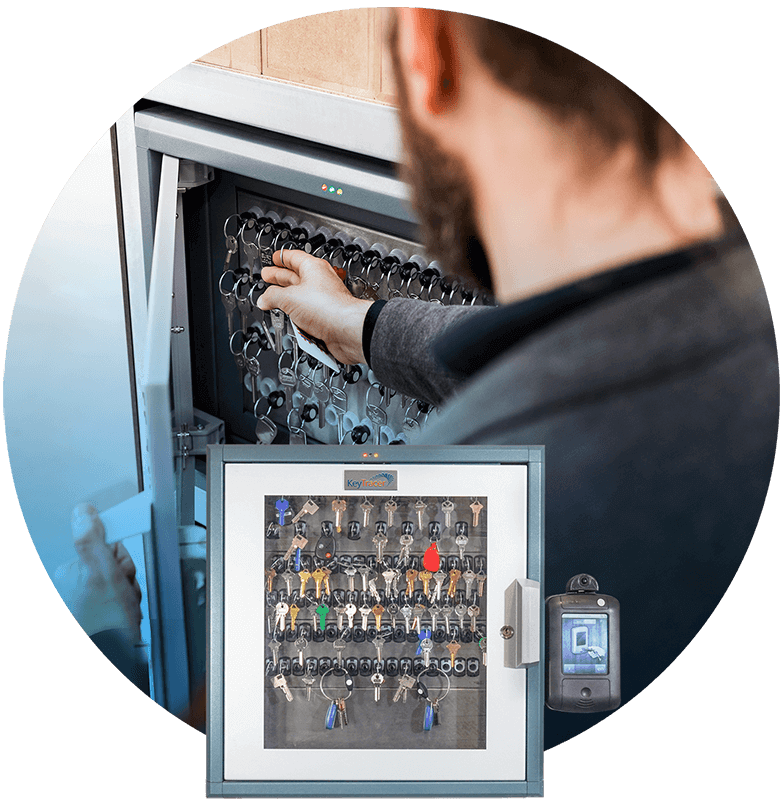 Key Storage Cabinets
While a key management system includes many powerful tools, it still needs to provide physical security to keys. Key cabinets include individual locking slots that secure key rings. In addition, you can select different-sized panels with differently-space lock slots depending on the number of keys and keyrings you need to secure at a given location.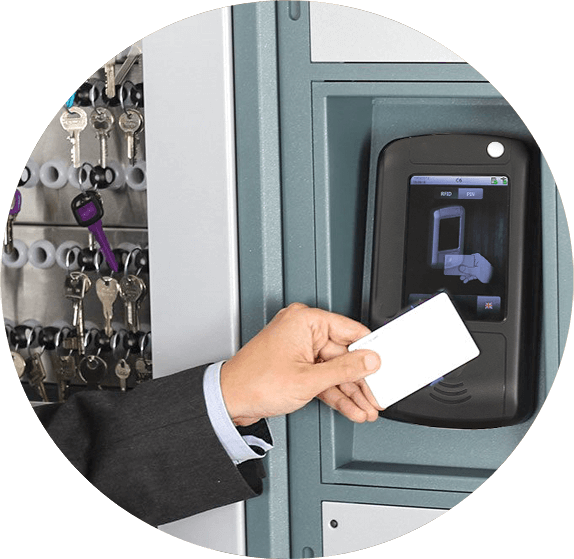 Smart Access Terminals
Users access keys by first authenticating themselves at the key system's access terminal. Basic systems might include a simple keypad. More advanced key systems might use a digital touchscreen paired with high-security access controls.
The touch screens aren't just for show. You can customize a key management system to prompt users for information when they sign out or return a key. For example, if you're a fleet manager, you could require drivers to log mileage and any new vehicle damage before they're allowed to deposit a key after a trip.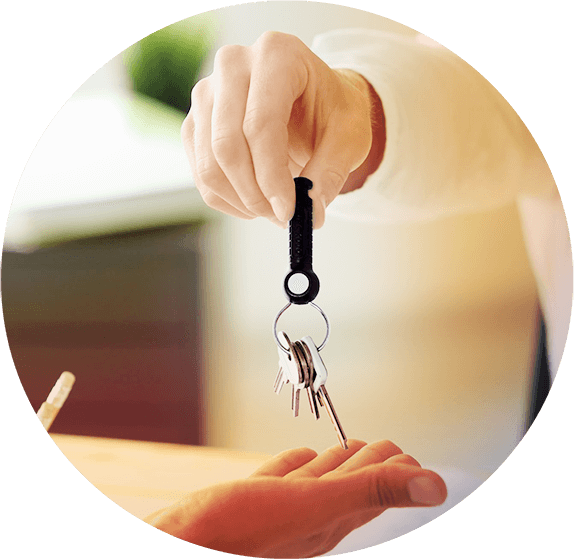 Key Tags
Every keyring is attached to an RFID key tracker, sometimes called a key tag or fob. These tags identify the keyring to the system. When users authenticate themselves and request a key, the system checks which slot holds that ring. It releases that ring and that one only.
When a user returns a keyring, the system reads the tag as it is deposited to verify that the user returned the correct keys. This way, there is no chance for keys to be lost or stolen. You'll always have a complete digital paper trail of who signed out which key, when, and when it is due for return.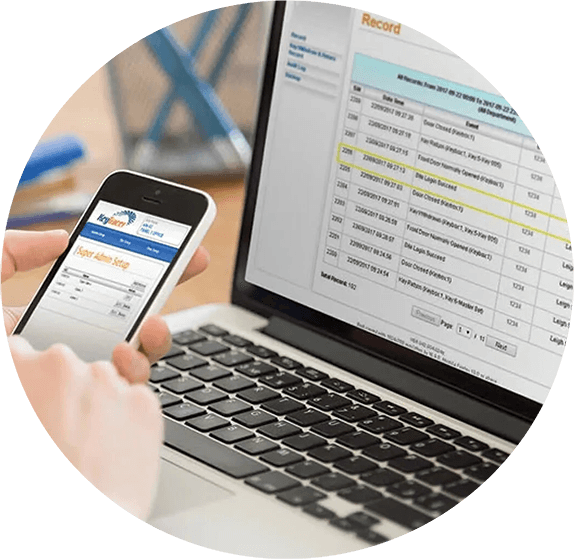 Management Software
All transactions, collected checklist data, and problem reports are logged in your key management software. Typically, this software dashboard is available through a secure web connection on any authorized computer or mobile device.
From this dashboard, you can customize and run reports on anything your company cares about. For example, you can customize users individually, by department, or by job type. You can generate detailed chain of custody reports if keys are regulated in your industry. And you can monitor for patterns in key loss.
What is RFID?
RFID is a short-range, low-power wireless standard typically used for computer-to-computer communication. For example, Real Time Networks key management tools use radio frequency identification (RFID) for key tracking.
---

---
RFID Key Management Systems Improve Business Operations
An electronic key management system has two primary jobs: storing and distributing keys and providing you with insightful data on key use. They should be able to do both of these jobs better than a human key manager could manually.
At the most basic level, key management systems do two crucial things pen-and-paper systems cannot. They securely store and distribute keys, and they enhance how effectively your organization uses keys through automation and analytics.
Key management systems provide other specific benefits as well.
Notable Key Management Solution Use Case: Fleet Management
Key management solutions are particularly useful in fleet management. They help you manage vehicle sign-outs and returns, reservation schedules, and they collect valuable usage data that helps you optimize your fleet performance. For example, the City of Saint John, New Brunswick has made particularly good use of its fleet management system.
Key Systems Are More Than Just Security Tools
It is right in the name: key management solutions improve your business management and operations. They streamline workflows that use managed keys and generate new, valuable data about how your employees work. If a workflow includes a key, then there's a good chance a key management solution can improve it.
---
About the Author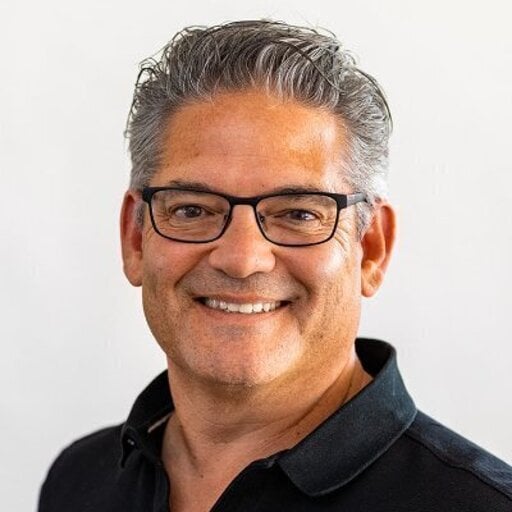 Jay Palter
Vice President of Marketing
Jay oversees marketing and strategic partnerships at Real Time Networks and has over three decades of experience in leadership roles in the financial services and technology industries.