The search for new law enforcement equipment management tools has led many organizations to smart lockers which are growing in popularity among law enforcement agencies for their efficient, reliable asset management.
So, how are real-world agencies actually using smart lockers? We recently surveyed deployment data for our LEA customers at Real Time Networks and here's what we found.
Many Types of LEAs Use Smart Asset Tracking
Our analysis included a wide variety of law enforcement organizations, including:
Municipal police departments

Airport police

Public and private correctional facilities

University police forces

C

ounty

sheriff's offices
Municipal police departments were the largest group of users of AssetTracer smart lockers, but all different agency types were represented in the deployments that were analyzed.

What Do

LEAs Store in Smart Lockers
Real Time Networks (RTN) analysts identified that the most common items stored in AssetTracer smart lockers were firearms (including everything from handguns to long guns), radios, less-than-lethal weapons (including predominantly police Tasers), laptop computers, and smartphones. Other items commonly stored include body cameras, handheld ticketing devices, utility belts, Narcan kits, and narcotics test kits.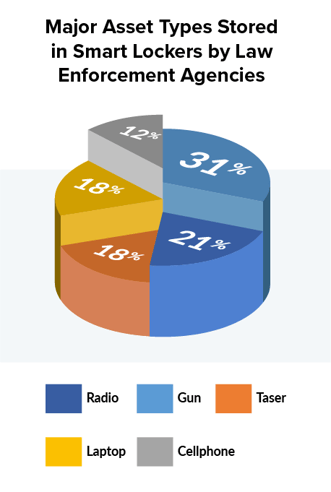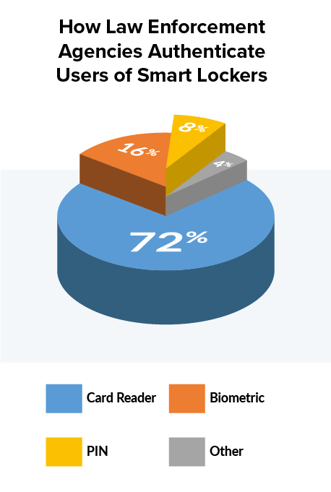 How LEAs Secure Their Smart Lockers
As expected, given the nature of their stored equipment, security was a major driver behind law enforcement agencies choosing smart high-security lockers for their police equipment storage. Almost three-quarters of the LEAs surveyed choose card-based user authentication, which integrates with their existing access control systems. Additionally, one in six agencies surveyed opted to use higher-security biometric authentication for access control to manage asset security. Fingerprint and facial scans were the most commonly chosen biometrics.
Less common was the use of PIN codes. Since PINs provide a lower level of access tracking, they typically aren't used in police asset management, except as a secondary factor in scenarios requiring multi-factor authentication.
---
Why Agencies Choose Automated

Law Enforcement Equipment Management

Systems
But, besides security, why do these LEAs choose smart lockers for their key and asset management? After all, a high-grade, steel cabinet offers security with or without the digital access control and sensors built into smart lockers.
Interest in new law enforcement equipment management systems was driven by the need for better accountability over equipment use. As one lieutenant commented, "Manual tracking wasn't working. Deputies at every bureau simply had too much gear coming and going every day for us to keep tabs on it all effectively. It was a matter of accountability too. We didn't want personnel going out on a call missing one important item. Or have a car not ready when someone needs it."
Our analysis revealed that many agencies are interested in critical fault tracking on important electronic devices, so they know when devices need repair. When using traditional offline equipment storage lockers, they would only know a device was broken if an officer or deputy remembered to tell a supervisor. Smart lockers, however, prompt officers to log any issues when signing a handheld back into the locker, so no issues are ever forgotten. In addition, AssetTracer smart lockers send daily reports to supervisors, so they know immediately if a device isn't working properly.
"It was about workforce enablement," said the lieutenant. "We needed a system that made [officers'] lives easier, rather than adding a layer of busy work just so the operations group got the reporting it needed."
RTN Chief Technology Officer, Lee Purvis, has worked closely with many law enforcement customers. "We find more and more law enforcement agencies are looking for an automated solution for managing their assets and keys. They need a solution that offers centralized data and reporting on what is happening at each bureau, but still gives the bureaus enough local control to manage their day-to-day operations."
---
Key Advantages Gained by LEAs Who Use Smart Lockers
Beyond the benefits our customers highlighted, law enforcement agencies gain many other advantages by switching to smart lockers for their equipment management.
Streamlined operations
Smart lockers handle the tedious administrative tasks of asset management so your personnel can focus on more productive work. Your officers and staff don't need to be on hand to facilitate every transaction. Instead, the smart locker system manages each transaction at any time of day.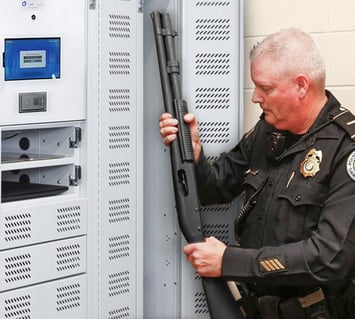 Reduced losses
Automated transaction logging virtually eliminates human error from the law enforcement equipment management process. Everything is electronically logged, so you always know who has which equipment signed out. You can also set curfews on sensitive asset sign-outs.
So, for example, if an officer doesn't return a signed-out firearm or drug kit at the end of their shift, the equipment manager receives an alert so they can investigate immediately. That will increase the chance that the item is recovered before it gets forgotten in a squad car trunk or left buried at someone's desk.
Complete audit trails
The detailed logging generated by smart lockers gives you audit reports that law enforcement agencies can use to show compliance for personnel accessing and using any stored asset. As a result, you can more easily demonstrate proper care for firearms, drug test kits, narcotics, and any other assets on which you're required to submit reports.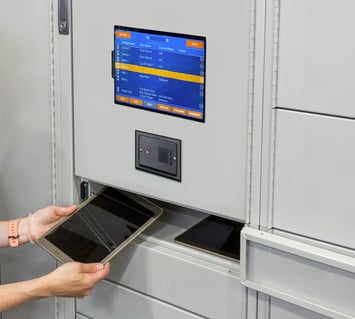 Automated evidence management
Smart lockers are good for more than just managing equipment. The strong access controls, security features, and reporting make them excellent tools for evidence management. Modern smart locker systems can also include refrigerated compartments for keeping biological samples and other temperature-sensitive evidence ready for testing days, weeks, or months down the road.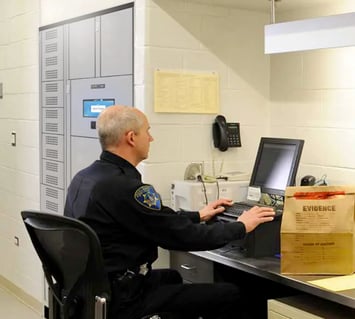 Climate controls for electronic devices
Biological specimens aren't the only temperature-sensitive assets LEAs need to hold. Mobile electronic devices will wear down before the end of their planned lifecycle if you don't store them in properly climate-controlled cabinets. Smart lockers can have ventilated storage compartments that keep electronics functional without compromising security.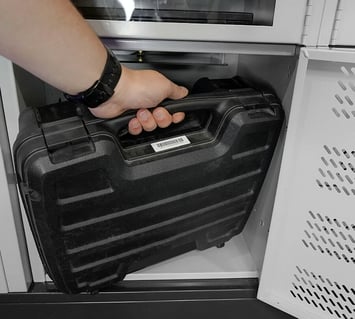 ---
Four Tips for Evaluating Law Enforcement Smart Locker Systems
Smart locker systems may be complex technology, but evaluating which one best fits a LEA's needs doesn't have to be complicated. Here are four tips for identifying the best smart locker system for your agency.
Start by Setting Your Objectives
Your agency's decision-makers need to agree on the objectives you want to achieve by using a new asset tracking system. For example, are you looking to prevent equipment losses? Are you simply looking to improve the efficiency of day-to-day operations? Do you need tighter equipment handling for compliance?
Also, decide what you want day-to-day operations to look like after you've installed a new smart locker system. For example, what will workflows look like for your equipment manager? How about for your officers and other regular users of the system?
---
See What Information is Tracked
One of the main benefits of using smart storage and weapons lockers is that the information they collect can provide valuable insights into your operations. Therefore, one of the first things to compare across the systems you're considering is what information each can collect.
You may want to know whether systems can track:
Serial numbers

Asset vendors

Purchase dates

Funding sources, including Federal award identification numbers (FAINs)

Storage locations

Use and condition of assets

Decommissioning data, such as dates of disposal and sale prices
---
Look for Systems That Balance Usability and Security
Because a security system connects people, assets, and facilities, using a smart security system can help connect entire businesses. One way to do this is by using a smart key system to self-regulate staff access to keys.
For example, we helped one customer configure their smart key management system to self-regulate driver certifications for forklifts in their warehouse. We customized the system to record the expiration dates for every driver's certification. They received email reminders when expiration dates were approaching, and if a driver let their certification lapse, the system automatically locked them out from accessing keys.
The forklifts themselves may not have been smart assets, but the key system could still provide smart management for them.
---
Research Provider Service and Support
You're buying more than just a piece of hardware. Smart lockers are living technology that must be updated and maintained over their lifecycle in your organization. That means you'll need to identify a provider ready to work with you for the long haul.
Adaptable systems will always require a degree of ongoing support. Ask different providers whether they can offer:
Software customization

Integration with existing systems

Tailored tracking system rollouts

Personalized training

Ongoing support

Ongoing software updates and upgrades
---
---
About the Author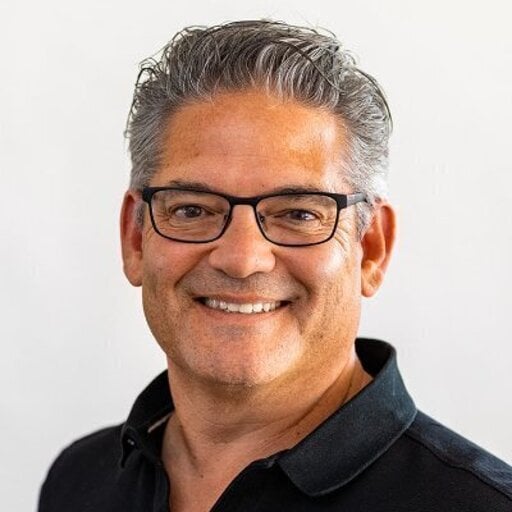 Jay Palter
Vice President of Marketing
Jay oversees marketing and strategic partnerships at Real Time Networks and has over three decades of experience in leadership roles in the financial services and technology industries.