Law enforcement agencies experienced a whirlwind year in 2021 and 2022 looks like it will bring an acceleration of technology innovation in policing along with a whole new set of challenges.
To help police forces and law enforcement agencies, we've compiled some of the key trends on the horizon. While many challenges await, the trends we highlight here are solutions-focused. We're looking at different policies, programs, and especially technologies that law enforcement agencies will want to consider applying in their local jurisdiction.
Among other things, we foresee a mix of new policy ideas, partially shaped by US Federal Government funding initiatives. In addition, a range of new technologies will continue to make in-roads as better law enforcement applications are discovered. And we expect to see wider adoption of a new generation of digital devices.
We'll end with a singularly important point: these trends raise concerns about the effective management of people and technology, including so-called "smart" devices in law enforcement. If you don't pair them with smart management, acquiring those devices will just waste your budget and time.
"Policing transformation revolves around technology—not only new technological initiatives but also the impact new technologies have on the workforce, resources, budgets, and citizen interaction. Many police services continue to rely on largely manual processes—taking notes, scheduling, or undertaking administrative tasks. Police chiefs recognize the importance of embedding more automation to better allocate time and resources."
— Policing in a networked world, Price Waterhouse Coopers
---
Policy & Organizational Trends
Community-oriented policing continues to rise
Community-oriented policing initiatives will expand in 2022, in the US especially. Agencies at the federal, state, and local levels have made it clear that reorienting their policing models to fit their communities' needs better is a high priority. Many of the other trends we will highlight below will need to fit within these new community policing models.
We expect the greatest push to come in larger urban areas in the US. But we will also see new programs in rural areas and initiatives in Canada and the UK to build higher levels of trust between law enforcement and disenfranchised communities.
Transparency initiatives
Looking ahead, we can expect to see more transparency initiatives coming out of law enforcement. These will often go hand-in-hand with community-oriented policing initiatives. For example, an agency may choose to make all of their crime rate statistics easily available. Or they may institute policies for proactively releasing body cam footage for high-profile or sensitive calls ahead of FOIA requests or media pressure.
Anti-bias training
You don't need a crystal ball to see that more of this is coming in 2022. You just have to look at 2022 proposed funding for the US Department of Justice. $42 million was proposed earlier this year for a range of anti-bias initiatives. These programs will take different forms in different areas, but they will certainly expand everywhere.
---
Law Enforcement
Personnel Trends
Changes in recruitment
Yet another graduating class will join the force in 2022. The current generation of law enforcement professionals has very different expectations about how policing should work and much greater comfort with technology. That may help speed the adoption of much-needed automation solutions to ease the burden on overworked police officers.
New roles in law enforcement
2022 will see the introduction of even more new roles in law enforcement agencies. We can expect to see a growth in officers trained in specialized technical skills, such as crime scene drone use. More on that below.
We can also expect to see entirely new roles within law enforcement. Many larger agencies have already begun hiring data scientists to help automate predictive policing programs. As the cost and availability of data analytics tools drop, hiring individuals for those roles will become feasible for smaller municipalities.
---
Technologies
Biometrics
We can expect to see even more options for biometric access controls in the coming year. While a broad range of types is currently available, we expect to see the most growth in contactless biometrics, like iris eye scans, voice, or facial recognition.
We can also expect to see biometric records used more frequently in criminal investigations. For example, the FBI has recently introduced its Next Generation Identification (NGI) system, which they tout as "the world's largest and most efficient electronic repository of biometric and criminal history information." The NGI and other systems will allow more rapid suspect identification and criminal history checks.
Artificial Intelligence
As it is used in the real world, the term "artificial intelligence" covers a broad range of software systems, but a couple in particular matter most to law enforcement. The first is predictive analytics, which often underpins powerful smart AI systems.
Modern law enforcement technology generates an enormous amount of data. Too much, in fact, for any team of human analysts to crunch on their own. As this volume of data continues to grow in 2022, we can expect to see more and more AI analytics tools take over the hard work of those overtaxed human analysts. They will turn that mountain of data into more and better insights for law enforcement professionals.
Natural language processing (NLP) is the other AI subtype we can expect to take off further in 2022. NLP is the capability of computer systems to understand human speech. For example, it can help 911 call centers triage calls when call volume is high. And as some precincts are already piloting, they can help translate foreign language calls to English and back to the caller's native language.
Information sharing
Interagency data sharing, long a prickly subject, is gaining wider acceptance and will be on the rise in the coming year. Several new national and international data standards are under development to support this initiative. One of the most promising in the US is the National Information Exchange Model (NIEM).
NIEM lays out the framework for computer systems at different law enforcement and public safety agencies to talk directly to each other. It has already helped streamline new applicant processing at US Immigration Services, standardized data collection for Canadian employment and social development agencies, and improved the accuracy of data collection state-wide among Florida law enforcement agencies.
Digital evidence
Digital evidence is tricky because you need to worry about the integrity of both the data itself and the hardware on which it resides. Law enforcement agencies have had to deal with digital evidence for years now, but we'll see more agencies with new, specialized tools for managing it in the year ahead. In addition, we'll see wider adoption of smart management systems for securing and tracking everything from body cameras to laptops, tablets, and smartphones. Even footage collected from drones and new law enforcement robots will need to be retained for trial.
Devices
Drones
Every year, pundits tout new equipment as the next great thing in law enforcement, but only a few of those devices ever stick around. However, we expect law enforcement drones to be one of the few that do stick around past 2022.
Drones have a few different promising applications. They have already been used for search and rescue efforts and crowd monitoring. As various agencies' video streaming and information sharing capabilities proliferate, drone recordings will also become increasingly useful for crime scene investigations and accident reconstructions.
Robots
We'll also see more agencies use law enforcement robots in the year ahead. Like drones, they can assist with surveillance and enter hard-to-reach locations at crime scenes. Autonomous and human-operated robots will also be very useful to get eyes on targets during tactical encounters.
Next-gen body cameras
The next generation of body cameras is just now hitting the market. Newer devices will offer more than just passive recording. Some models include touchscreens and onboard controls for live playback to help officers review events during civilian encounters. Other new cameras can be mounted on tripods and placed on the ground or a car's dash for added surveillance when necessary.
What's missing? Smart management
In 2022, many law enforcement agencies will dive in headfirst, adopting these new practices and technologies. But, unfortunately, many of them won't consider how they're going to effectively store and manage all of the new equipment they will need.
Modern policing requires a large volume of equipment already, including
Radar kits

LTL weapons

EMS bags

Laptops

Radios

Cameras
Equipment managers are already overtaxed dealing with all of this equipment. Adding next-generation tech management onto their workload may not be feasible. Fortunately, smart management systems can provide a very real return on investment by automating much of this overhead administrative work.
Not only will a smart asset management system ease the burden of your staff, but they can also gather their own usage metrics. These metrics help you identify performance problems and make accurate decisions when it is time to do your 2023 equipment purchasing.
All these trends are really about people
These trends reveal an intersection of people, policies, and technology on the horizon for 2022. While new technology is exciting, law enforcement agencies should never purchase the latest and greatest 'just because.' Technology is only as valuable as the work it does for people, including your officers, attorneys, and the civilians they protect. Good technology should augment or enhance how those officials do their job, not become another burden on their day-to-day work lives.
---
Real Time Networks offers
smart management solutions
for law enforcement agencies
looking to work smarter, not harder, with their technology.
---
Learn More About Real Time Networks Solutions
About the Author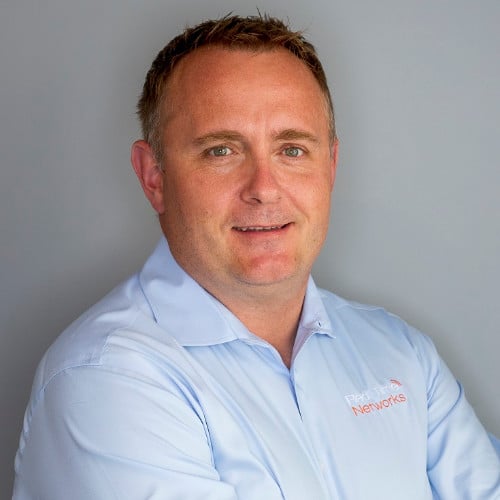 Mike French
CEO at Real Time Networks