A wide range of key management systems are available today. It can be a challenge to decide exactly which one is right for your needs. This decision is critical, as not every key control system will work for every organization. Purchasing the wrong one can have serious financial repercussions.
Go too light on system features, and you risk incurring unnecessary security or regulatory compliance breaches. Overbuy, and you're wasting money on features that aren't necessary for your organization.
Here we provide an overview of the basic key control technologies available on the market today. Hopefully this helps you identify the category that best fits your security needs.
Basic Key Management
Options here range from informal key sign-out processes, to mechanical key control products. These are intended for facilities with only light deterrence needs.
Manual Processes
Many organizations can get away with just a basic level of control. If this is you, simply take your key collection and have a staff member or team draft a sign in/sign out form with pertinent details to track usage.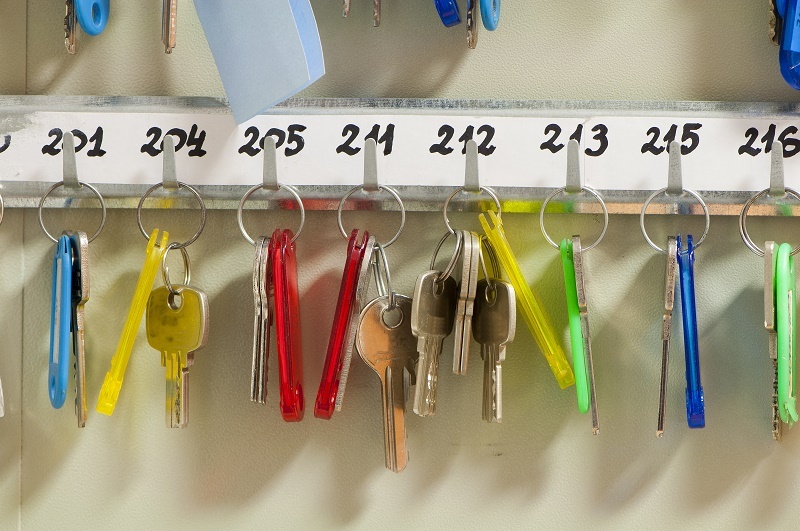 Mechanical Key Cabinets
Centralized cabinets at a minimum usually include a tracking system, such as a written transaction log, or socketed ID tokens that staff must plug into the cabinet to extract a particular key. Upgraded mechanical cabinets may include a master lock to restrict access to keys. There are many of these types of products on the market.
These systems are best for companies with simple key security needs. These might include car dealerships, small property management companies, or other companies where only a few individuals have access to keys.
Mid-Range Key Control Products
Electronic key cabinets have been on the market for years now. They are the standard product for organizations that need consistent and accurate tracking for every key transaction.
Computer-Assisted Mechanical Key Cabinets
These are upgraded mechanical key cabinets that swap some of their weaker mechanical controls for electronic systems. Instead of unlocking the cabinet with another key, which might also be prone to theft, they may use a PIN-code terminal. Or they might have an embedded PC to generate printable transaction logs.
Electronic Key Cabinets
These are fully electronic and accountable key control systems. Cabinet access, individual or restricted key access, and transaction logging are all digitized to mitigate human error.
These types of security systems are commonly employed by commercial property management firms, hotels, and public venues like sports and music arenas, where a large number of staff in different divisions need to access a large number of keys. Or in data centers where different businesses have co-located racks of secured equipment in a common space.
Premium Key Management System Products
Premium-level high-security key management systems are uniformly electronic. But they are expanded and enhanced with additional support services and features. They also often integrate with existing IT infrastructure and other security systems.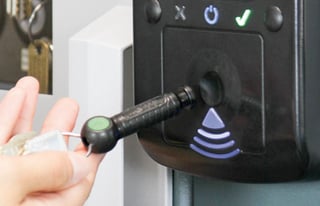 One recent, notable enhancement has been the introduction of RFID technology. It provides low-power, wireless communication between electronic components. Many higher end key control systems now utilize it. As an added benefit, RFID components are solid-state, meaning they're virtually maintenance-free.
Organizations in need of premium key control have complex security needs or are in higher-risk sectors. Where a failure to control access to resources or facilities could have either a catastrophic financial or regulatory impact. They may also require up-to-the-second awareness of asset and key usage in their facilities.
Premium key management systems are defined by the possible upgrades they offer over standard electronic key cabinets:
Full Management Suites
These are fully-networked security systems. Key cabinets networked to computer management dashboards, as well as your other key control systems.
Security Integration
Premium key control systems can integrate with other existing security systems. Meaning, for example, you can integrate your key control with fleet control and asset management products. Newer systems can even connect with other vendor systems you already have.
Real Time Location Services
Mid-range electronic key control systems have come with real-time alarms for a while now. But thanks to RFID technology, the latest premium products can now work with real time location and indoor positioning services that let you track keys and assets live in your facility.
Consultation and Support Services
No two organizations have the exact same security demands. Key control products can be purchased directly from vendors, but full-service security solutions providers offer a complementary set of services. They can provide up-front consultations and ongoing support for products they design and install for their clients.
Premium-level key control systems are in demand—and often necessary—in high-risk industries where the loss of a single key could have a catastrophic impact on operations. They are also common in government and highly-regulated industries, where key loss can incur significant penalties or put the public at risk.
The range of key control systems available today is the widest it's ever been. Having a well-defined security plan and knowing your organization's exact security needs will always be the keys to determining which technologies are the right fit for you.
Evaluating key management systems for your business? Download our 10-step purchasing checklist.
Want to learn more about physical key management best practices? Check out the guide below.
About the Author
Inge Boubez
Inge Boubez, Director of Marketing