Put simply, workforce enablement is everything a company does to make it easier for its workers to carry out their jobs. Sounds straightforward, right? Not necessarily.
Study after study has found that supported, engaged workers perform better and produce higher quality work. But these studies typically only find qualitative improvement. It is very hard to measure workforce enablement in quantitative terms that you can put into a quarterly report.
Some organizations try to measure a related metric, employee satisfaction, but that isn't really the same thing as enablement. The point of enablement is to make employees more effective at their jobs—the outcome is productivity.
But just because workforce enablement is hard to measure doesn't mean you shouldn't support it. The trick is just ensuring you're giving workers the right tools.
This article explores how you can support workforce enablement and explains how one particular toolset, smart lockers, enables workers in various settings. It concludes with a few short case studies illustrating how several Real Time Networks customers have used AssetTracer smart lockers for their workforce enablement strategies.
---
How to Support Workforce Enablement
Your workforce enablement activities can take many forms and utilize many different tools. Typically though, they'll break down into technology, policies, and culture.
Technology
The main way you want to use technology to support workforce enablement is to improve how your employees interact. For example, technology can frame how employees share equipment and the workplace. A smart locker system can manage employee tools transactions, so items are always available when employees need them. If there is a problem, employees can report it through the access terminal on the locker system, so equipment gets repaired faster. And if they're late in returning equipment, the locker system can notify a supervisor to step in and manage the situation.
Policies
New policies help you adapt how your employees work independently and together. They establish clear roles and responsibilities, so everyone understands the scope of what they need to do within the organization.
For example, taking our smart locker use case again, you can make employees responsible for reporting any errors or damage to vital electronics when they return those items to the locker system. You can have them log this information using a digital checklist on the access panel at your locker. That way, no employee unwittingly signs out a malfunctioning device.
Culture
Finally, building a culture of employee empowerment helps establish the underlying performance levels you expect from your employees. You can build an appropriate culture using formal training programs, workplace events, HR initiatives, and offering self-service learning modules.
For example, suppose you're trying to drive the adoption of a new smart locker system to a skeptical workforce. In that case, a training program can help ease any concerns and get employees comfortable using the new system. Usually, resistance to new technology occurs when employees feel like they're being replaced. But showing them how a new technical tool actually makes their lives easier almost always speeds adoption.
---
The Relationship Between Enablement and Engagement
Happy and engaged employees are more likely to feel enabled in their jobs and have higher productivity. For example, a joint study conducted by Forrester and SAP Concur found that a company with a majority of engaged employees generated 81 percent greater customer satisfaction than companies without. So how do you get engaged employees?
That same Forrester study found that employees are most happy and engaged when they feel:
Connected

—people want to feel like their effort has a purpose. They want to feel connected to their colleagues and customers and feel like

what they do positively impacts those people's lives.

Productive

—completing work is satisfying. Highly engaged and enabled employees want to get work done and get a sense of pride from accomplishing their tasks.

Facilitated

—in other words, they feel like t

heir priorities are the same as the wider organization. When they feel like the organization facilitates their work, they feel more engaged and enabled.



.
What Are Smart Lockers?
A smart locker is an equipment storage and distribution system with a built-in computer and sensor network. That computer network manages access to stored equipment and, thanks to its sensors, can monitor, analyze, and change the locker system's performance. They provide secure storage, but more importantly, they improve overall equipment effectiveness through automation.
Smart locker systems typically use four key components: storage lockers, an access terminal, an internal content surveillance system, and management software.
Storage cabinets
A smart locker system is built around the storage cabinets that hold idle equipment. Advanced locker systems use a modular cabinet design that adapts to tight space constraints. They can also include charging ports for reading essential electronic devices.
Access t

erminal
Connected to each cabinet is an access control terminal. Here, users authenticate themselves when they sign equipment in or out. You can also prompt users for additional information during transactions. For example, you can require them to log fault codes or any new damage. In addition, you can require users to confirm if anything is empty in consumable kits.
Access terminals can use a wide range of authentication options, from basic security like PIN codes to swipe cards to more comprehensive biometric scanning, including fingerprint scanning, iris eye scanning, or facial recognition. You can also require multiple credentials for more secure multi-factor authentication.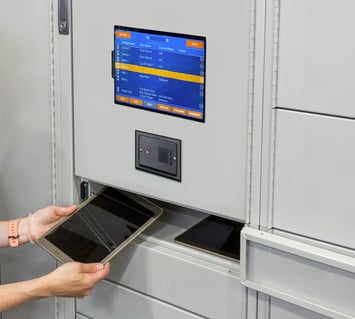 Content surveillance
Content surveillance sensors monitor equipment stored in the smart system cabinets. Some devices that use wired USB connections for charging can also report their identity and status to the management system. In addition, wireless RFID sensors inside cabinets can scan devices as users take or return them. That way, you can ensure that they don't accidentally or maliciously take the wrong devices.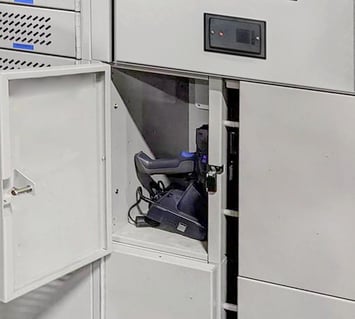 Management software
All of the data collected by the content surveillance system and the access terminals goes to the smart locker system's management portal, which you can access from authorized PCs or mobile devices. You can monitor device usage, manage users, and run reports from the management portal.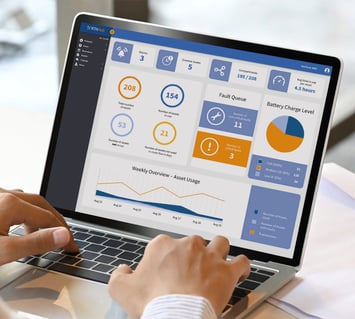 How Sm

art Systems Enable Workers
Workforce enablement sounds good in theory, but good theories need to show real-world results. Here are just a few examples of companies using an AssetTracer smart locker system to enable their workforce.
San Mateo County Sheriff's Office
The deputies and other law enforcement personnel of the San Mateo County (SMC) Sheriff's Office had a large amount of police gear, narcotics testing kits, fleet keys, and weapons to manage. It took officers at each of their bureaus hours every day to track signouts and manage equipment availability. And manual errors meant they often didn't know when something was missing or running low until it was too late.
They decided to use smart asset lockers to streamline how they tracked and captured information on that equipment. They worked with Real Time Networks to install smart lockers at each bureau, sized according to the amount and type of equipment each bureau managed.
Officers could quickly get everything they needed to do their job independently without having to wait for an equipment manager to sign them out. The system would automatically identify everything the officers needed to take on their shift and remind them if they forgot to withdraw an essential item.
---
Workers at CNRail need to access large volumes of documentation when they service trains. To make their lives easier, the company digitized all of the manuals, schematics, and other documents the workers needed and then distributed iPads to them for use in the yard.
The iPads need to be charged and prepped overnight, though. So CNRail used an AssetTracer system for their tablet management and gave workers a way to self-serve tablet signouts. The locker system made signouts easy so workers could get the documentation they needed at any time. The system could also verify users returned every tablet at the end of the day. If a tablet was missing, the system sent an alert to supervisors.
---
Much like CNRail, Wynn Hotels and Resorts needed a way to manage iPads. So they used iPads to assign and update housekeeping duties in real time. For example, when a housekeeper finished turning over a room, they would report it on their iPad. The front desk would get an instant update to send waiting guests on their way.
AssetTracer lockers helped Wynn keep all of their tablets charged and ready so each housekeeper could get to work as fast as possible. They could also report problems with iPads right from the locker access terminal, which instantly alerted technicians that a tablet required repair. The locker would lock down the device so no one else could accidentally sign it out until it was serviced.
---
Semiconductor Manufacturer
A major American computer chip manufacturer wanted its engineers to use new augmented reality goggles in their work. The goggles were very expensive, but their cost paled compared to the engineers' time. If the goggles weren't available when needed, valuable human resources would be sitting idle.
Their priority was to ensure that workers could always carry out the work they needed to. The AssetTracer system helped ensure equipment was always ready when it needed to be. The fact that it helped secure expensive items was just a bonus to the workforce enablement it provided.
---
Want to learn how to support workforce enablement in your organization?
Read Our Guide on
Everything You Need to Know About Physical Asset Tracking Systems
---
About the Author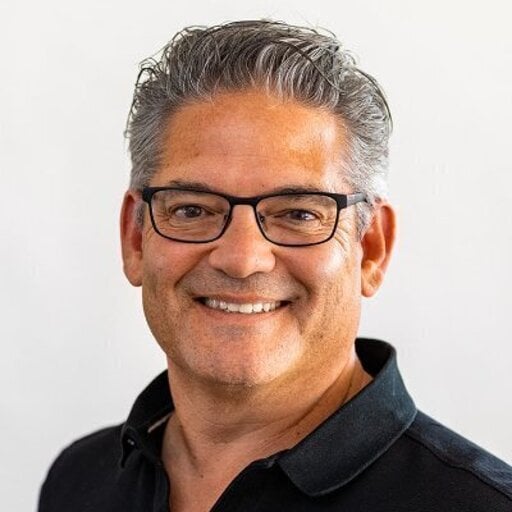 Jay Palter
Vice President of Marketing
Jay oversees marketing and strategic partnerships at Real Time Networks and has over three decades of experience in leadership roles in the financial services and technology industries.