Business was good for Reading Truck Body in 2019. The auto equipment manufacturer had been cranking out proudly USA-made trucking equipment for more than 60 years. And their reputation had grown to the point where they were doing solid business across North America.
As their business grew, Reading Body realized that they were going to need to upgrade their ERP to a more robust system with barcoding capabilities. The upgrade would make their parts inventory management more efficient and improve tracking and control of production costs. With this project, in came handheld warehouse scanners, which became mission-critical equipment in their daily operations. Lost or uncharged scanners could quickly lead to productivity loss. So, the Director of Information Technology for Reading's warehouse and supply centers decided to proactively stamp out potential problems right away.
Warehouse Work Relies on Handheld Devices
Wireless scanners and mobile computers have transformed how distribution and supply chain management works. From receiving, inventory control, picking, and shipping, every link in the chain now relies on electronic handhelds.
At Reading, using wireless scanners had streamlined some of the most time consuming work in their warehouse. "They're essential. But being so portable makes them easy to lose. When they're lost, employees waste time searching for the devices, hurting productivity and our bottom line." said Dieter Stapelberg, the Director IT at Reading Body.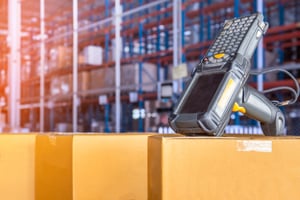 Staff would grab a scanner to pick inventory for an order, and then when things got busy, they might accidentally leave it sitting on a rack and forget about it. New inventory might be slid into place, knocking the scanner down between racks where it would sit for days or even weeks, if it was ever found again. "Because the scanners were essential to daily operations, missing scanners needed to be replaced. And they are relatively expensive, so this was an important consideration." Stapelberg said.
Supply chain handhelds can run from hundreds up to thousands of dollars for high-end mobile warehouse computers.
Taking Control of Their Equipment
It was clear to Stapelberg that Reading Truck Body could track its warehouse scanners better. Their leadership wanted a quick resolution to this problem and gave them a tight deadline to resolve the matter. So he decided to take action and immediately requested bids from a few different vendors.
At first, he was discouraged. Many providers on the market were giving them long timelines to implement asset locker solutions. Some didn't think they could have a working solution in place for 26 weeks at the earliest.
But they also reached out to Real Time Networks, to see what options they could provide. "It was definitely a challenging problem," their RTN sales representative said. After researching Reading's business to develop a full understanding of their needs, RTN pulled together a detailed presentation for Reading with some potential solutions.
Real Time Networks laid out everything the Reading distribution team needed to know about its AssetTracer smart locker system. Together they discussed exactly how the system could be tailored to the unique challenges of tracking wireless scanners in Reading's warehouse.
"Real Time Networks was great," Stapelberg said. "Their sales rep took the time to understand all the details about our challenges managing scanners and came back with some really good ideas. I was really impressed with the speed of their response."
Getting Back on Track
After reviewing potential solutions from Real Time Networks and other providers, Stapelberg decided that an AssetTracer smart locker system with built-in wireless 'content surveillance' was the best choice.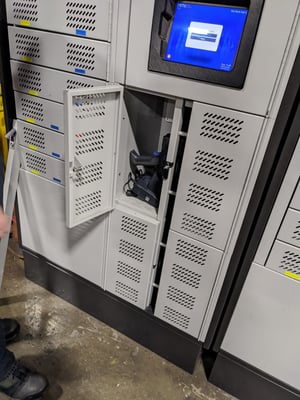 The smart lockers were delivered and deployed quickly. Their RTN sales rep was up front that custom development for their asset tracking needs would take a little longer, but would be deployed as soon as it was available. "They were the only provider that could deliver the full solution we needed on our timeline," Stapelberg said. "There were some features that weren't going to be available day one. But they were very up front about that. And they did deliver those additional features."
The AssetTracer lockers were modular and could be customized to fit at their different warehouse locations. The AssetTracer line also offered the widest range of locker modules on the market. Different power options, including charging cradles for the scanners could be wired right into the lockers, and multiple types of content surveillance for asset tracking. And all transaction and usage data was available in real-time through the RTNHub management portal that Real Time Networks' engineers had customized for Reading.
Reading's warehouse supervisors could check in an instant who was using which scanners live on the floor. And they could get reports emailed at the end of shifts if any scanners weren't returned listing who had used them last.
"It's made everything to do with our scanners so much easier," Stapelberg said. "The tracking feature is especially great." Reading had tagged its most expensive scanners with wireless tags for content surveillance. This made every staff member automatically accountable for their scanner sign-outs. Even if three or four scanners were stored in the same compartment the AssetTracer system could record exactly which scanner someone removed or returned. They were always accounted for.
"It's really changed how we work," Stapelberg said.
Now with their scanners always available, Reading Body's warehouse staff is rolling up its sleeves and working more efficiently than ever.
Contact Real Time Networks to learn how your business can benefit from smart asset tracking and secure storage solutions.
About the Author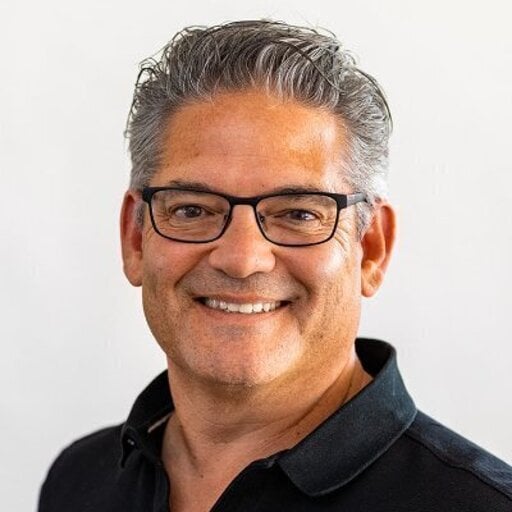 Jay Palter
Vice President of Marketing
Jay oversees marketing and strategic partnerships at Real Time Networks and has over three decades of experience in leadership roles in the financial services and technology industries.