The sudden intersection of these safety concerns in the past year has recently led President Joe Biden to sign rare bipartisan legislation to create new school safety policy and funding. That legislation included $1 billion in funding for schools to "create safe and healthy learning environments for all students," with an additional $300 million to be made available for "training and equipment that can help during a threat of violence."
That is significant financial support in this school safety bill, but it is by no means the only support available from the US federal government for school districts and community organizations looking to acquire school safety resources. For example, the Department of Education, the Department of Justice, and the Department of Homeland Security all have grant programs for schools to improve their wider safety and security initiatives.
The US Congressional Research Service recently published a report on Federal Support for School Safety and Security with a comprehensive list of such programs. They support many school safety initiatives, including anti-violence measures, training, and support for schools to acquire broader safety and operational technology.
So how can schools improve safety and security? This article highlights some of the key funding programs identified in the report.
---
---
Highlighted Programs fr

om the

Federal Support for School Safety and Security

Report
Student Support and Academic Enrichment grants are distributed to local educational institutions to improve students' academic achievement by "providing all students with access to a well-rounded education, improving school conditions for student learning, and improving the use of technology in order to improve the academic achievement and digital learning of all students." SSAE school safety grants are designed to be flexible in how they're used. For example, you can use some or all of SSAE grant funds for school safety policy and security programs.
---
The Matching Grant Program for School Security comes from the US Bureau for Justice Assistance (BJA). The BJA "is authorized to award competitive grants to state, tribal, and local governments for training school personnel and students to prevent student violence against others and themselves."
You can use BJA Matching grants to implement a variety of safety and management technologies, including "placing and using metal detectors, locks, lighting, and other deterrent measures in schools, acquiring and installing technology for expedited notification of local law enforcement during an emergency, and implementing any other measure that the COPS Office Director determines may provide a significant security improvement." Those tools can include key and asset security systems.
---
This program offers a specific set of Grants to States for Emergency Management (GSEM). GSEM grants are designed to "build the capacity of states to provide [educational agencies] training and technical assistance in the development and implementation of high-quality school emergency operations plans to address both natural and man-made threats." "High-quality" has a specific meaning under GSEM that applicants need to be aware of. School emergency operation plans must cover all five key areas: prevention, protection, mitigation, response, and recovery.
---
Local educational agencies and higher education institutions can apply for a SERV grant in the wake of a "violent or traumatic crisis, which disrupts the learning environment." While that trigger for SERV funding is very specific, funded agencies have a wide degree of latitude to determine how those funds are best applied. For example, SERV funds can be used to cover mental health assessments, student services, temporary security measures, as well as technical assistance for developing new security plans.
---
This grant comes from the US Department of Education, which awards it to individual institutes of higher education (IHEs) or IHE consortiums so they can "pay for the federal share of costs to carry out a range of activities to improve safety and emergency communications." SSCEM grant funds can be used for various technical safety and security in schools initiatives. Those include "developing and implementing an emergency communications system to notify students of a significant emergency or dangerous situation," as well as "supporting measures to improve safety…such as security assessments, personnel security training, and acquisition of security technologies and systems."
---
Educational institutions can use Title I-A funds on measures that "improve the performance of all students in a school." Title I-A doesn't stipulate specific uses of funds, but the statutory language on the books does encourage using funds on initiatives or technology to improve safety at school.
As the report suggests, "it may be possible for schools to use Title I-A funds for other school safety-related purposes if they are related to improving student academic achievement…Under TAP, each school must use methods and instructional strategies to strengthen the school's academic program through activities that may include mental health services, other social services, or a schoolwide system of interventions and supports to prevent and address problem behavior."
---
The EMPG program provides federal funds for schools "to aid state, local, territorial, and tribal governments in preparing for all hazards, including human-caused disasters." Funds can be used for safety measures that protect life and school property, which explicitly includes school; safety measures under the language of the EMPG program.
---
The JAG program funds state, local, and tribal governments for various criminal justice initiatives. JAG recipients can use their funds for "technical assistance, training, personnel, equipment, supplies, contractual support, and criminal justice information systems." This grant includes an intentionally broad purpose area to give recipients flexibility in how they use funds to address important local needs.
---
Real Time Networks School Safety Solutions
Real Time Networks' lines of key and asset management systems offer educational institutions from prekindergarten through postsecondary levels technological solutions for safety and operational needs supported by many of the school safety programs identified in the Federal Support for School Safety and Security report.
AssetTracer

smart security locker systems
Education institutions face security and operational challenges most other industries don't encounter. For example, many have to contend with open campuses. Higher education institutions also employ student workers across their campuses, in offices, as well as in campus shops, cafeterias, and other points of sale.
These institutions need innovative ways to secure the electronic devices, tools, and other physical assets full-time and student workers use on campus. University security lockers, like RTN's line of AssetTracer smart lockers, automate many time-consuming and tedious tasks that come with securing educational assets. Since lockers can also track entire kits and all RFID-tagged components in those kits, some educational institutions also use lockers for managing facilities kits or security officer kits.
You can customize AssetTracer lockers to include firearms and LTL weapons storage for your institution's security teams. Smart lockers give you an airtight record of who accessed which weapons and when. In addition, in-locker content surveillance systems help you ensure weapons are always accounted for. You can use scales and other in-locker tracking systems to measure consumable LTL weapons, like pepper spray canisters.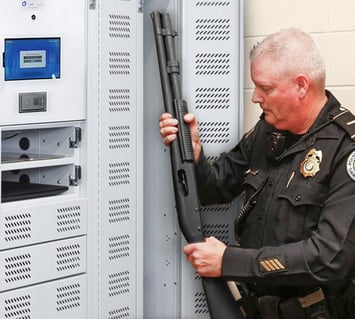 KeyTracer
key security systems
Educational institutions can use a smart key security system, like KeyTracer, to track and control how anyone on their campus accesses keys and vehicle fobs. Unfortunately, institutions often wait to address their key security until after a problem occurs. If they're lucky, all that will have gone wrong is that someone lost a key, not someone getting hurt. But even then, if that lost key was a submaster or master, rekeying costs can still be substantial.
KeyTracer systems automate key transactions and only permit access to the individual keys or keyrings a user is authorized to access. You can also present workflow checklists when users sign jets in or out so you can collect additional information about the facility or asset accessed with those keys during the work day.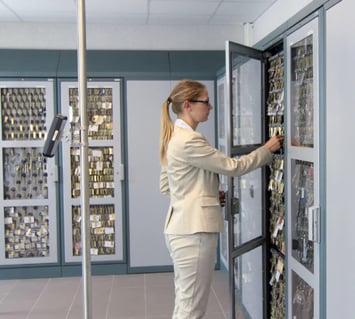 ---
Plan for the Future
Educational and student safety needs are constantly in flux. Therefore, you need adaptable safety and security technology that protects your students today and is ready to protect them against new threats several years down the road.
The funding sources in the Federal Support for School Safety and Security report can help educational institutions of all sizes get the resources they need to protect their students and educational community better. Technology is only one piece of the security puzzle institutions need to solve. Still, new security technology can be the platform on which they protect students through the 2020s and beyond.
---
---
About the Author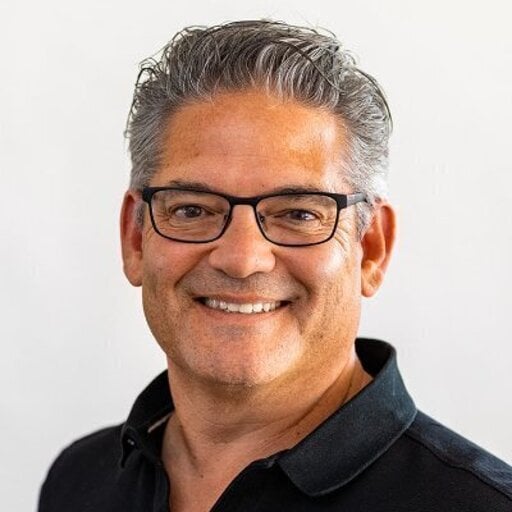 Jay Palter
Vice President of Marketing
Jay oversees marketing and strategic partnerships at Real Time Networks and has over three decades of experience in leadership roles in the financial services and technology industries.