Best Practices for Physical Key Management
If securing physical keys and managing who can access those keys is top of mind for your organization, Real Time Networks is here to help.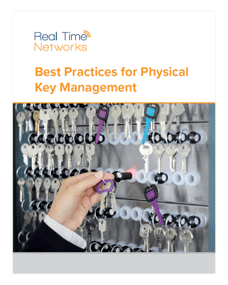 Best Practices for Physical Key Management presents effective ways to maintain secure distribution and use of keys, which will help to better manage risk, reduce theft and equipment loss, and ensure regulatory compliance.

Although key control programs vary from company to company, there are best practices you can follow to get your organization started. In our Guide, you'll learn about:
Benefits of better key control
Key control program inspiration
Creating a key control system for your organization
Implementing a key control program
And other useful resources
Fill out the form to download the guide.